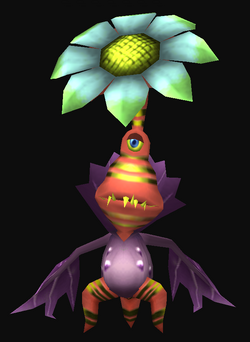 The Mandora is a boss monster in Dark Cloud 2, encountered in the fourth dead end of the Zelmite Mine. It is the boss variation of the Himarra, and is optional in terms of completing the game. Only eight of them are encountered in the entire game; after defeating them in the Dead End 4, they are never encountered again.
Battle Tactics
Edit
See Himarra for the behavioral tactics of this monster. These guys function identically to to Himarra, but of course due to their large numbers, they will gang up on you. Either slowly approach them and separate one another from the pack and use ranged attacks, or use charged attacks to knock them down. Repeat until all eight Mandoras are dead. Winning will net you two Diamonds.
Monster Notes
Edit
| Dark Cloud 2 | Mandora |
| --- | --- |
| Habitat | Zelmite Mine Dead End 4 |
| Type | Boss |
| Hit Points | 10000 |
| Attack/Defense | 170/110 |
| ABS/Gilda | 400/130 |
| Weakness | Flame (200%), Cyclone (200%) |
| Effective Weapons | Sword (120%) |
| Ineffective Weapons | Wrench (80%), Gun (50%), Beam (80%) |
| Item Inventory | Prickly, Wind Crystal, Forest Dew |
Ad blocker interference detected!
Wikia is a free-to-use site that makes money from advertising. We have a modified experience for viewers using ad blockers

Wikia is not accessible if you've made further modifications. Remove the custom ad blocker rule(s) and the page will load as expected.