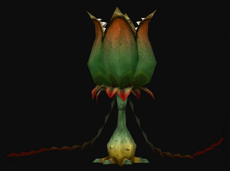 Man-Eating Grass is a type of monster in Dark Cloud 2. It is called the Cannibal Plant in Dark Cloud, and is first encountered in Wise Owl Forest. In Dark Cloud 2, Man-Eating Grass is first encountered in Rainbow Butterfly Wood. This enemy is the only non-moving monster type in the Dark Cloud series.
Dark CloudEdit
The Cannibal Plant and its variations will attack the player by spitting a cloud of Goo from a distance, or whip with its vines when at close range. It does not move, and the player has the chance to land a couple of hits at close range, so it should be fairly easy to beat. Be careful though, its vines may cause Poison, and its Goo can easily ruin your dodging abilities. It's variation, the Cursed Rose will constantly spit clouds of goo, and both the Cursed Rose and Dark Flower can curse you unlike the Cannibal Plant.
Enemy Data
Edit
Dark Cloud 2Edit
The Man-Eating Grass has two attacks, the first executed by spitting a poisonous sap at the player that pierces their guard. The second is a short range one-two lash using its whip-like vines. This attack is fast, but it can be blocked safely. Since the Man-Eating Grass is extremely weak against Flame and is a completely stationary enemy, it's one of the best monsters to kill with the armband or ranged weapons in order to upgrade them.
The best method to defeat the Man-Eating Grass and its variants is to close in on them while sidestepping the poison they spit. When you are close enough for them to use their whip attack, raise your guard and block the hits. Once the attack ends, land a combo with your character's melee weapon. The Man-Eating Grass and it's variants have no flinching resistance, so feel free to finish the combo. Once you hit them with your combo finisher, immediately guard. These plants always flinch, but they can't be knocked over. Rinse and repeat until your target is defeated.
This monster can give you the scoop "Spooky Grass Smile". To obtain it, just photograph it with Max while it "laughs". This distinct action can be seen differently to the range attack. If you want to know whether it is attacking or laughing, the attack's 'laughing' gesture goes in a direction opposite the player before moving to throw it to the player. The laugh is just a straight towards the player action. Also, the ranged attack has a certain sound file, and the smile doesn't.
In Dark Cloud 2, the Cannibal Plant gets its name from the translation of the same monster in the Japanese version (Dark Chronicle).
Dark CloudEdit
Dark Cloud 2Edit