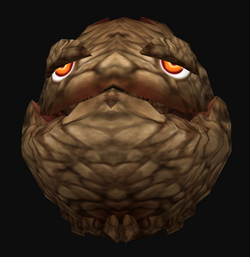 The Ivanoff is a monster that appears in Dark Cloud, known as the Rockanoff, and in Dark Cloud 2. It makes its debut in the Divine Beast Cave and Starlight Canyon, respectively.
For quotes, see Steve's Quotes or Monster Quotes.
Battle Tactics
Edit
Dark Cloud
Edit
The Rockanoff is a stone-type enemy that rolls quickly to attack. It can cause significant damage and appears on the lower floors of Divine Beast Cave. It reappears in the Demon Shaft, between floors 21-41 (Ice Zone).
Dark Cloud 2
Edit
The Ivanoff and all of its variations have two attacks: it'll either roll to attack you (multi-hit attack that knocks you down) when at long range, or at close-range it'll "bite" you. You'll need to block often, as the Ivanoff's pain chance tends to be low; it'll only flinch at the 4rd strike of a combo.
This monster can give you the scoop "Spinning Ivanoff". To obtain it, photograph the Ivanoff while it rolls quickly toward you. It would probably be best if you moved to the side right before it hits you, and take a snapshot.
Monster Notes
Edit
Dark Cloud
Edit
Section incomplete

This section is empty or needs to be expanded. You can help the

Dark Cloud wiki

by

writing it

.
Dark Cloud
Rockanoff
Rockanoff
Habitat
Divine Beast Cave
Demon Shaft
Ice Zone
Type
Stone
Stone
Hit Points
30
2500
ABS
3
20
Defend
No
No
Weakness
None
None
Steal
Stone
Stone
Dark Cloud 2
Edit
Variation Gallery
Edit
Dark Cloud
Edit
Image needed

This article or its infobox is missing one or more images. Please help the

Dark Cloud Wiki

by

uploading

one.
Dark Cloud 2
Edit