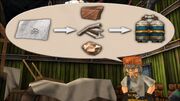 Inventing is the act of using three ideas in the Idea Book to create an invention, introduced in Dark Cloud 2. Afterwards, an invention can be built using different items, such as common materials, but also rarer items like recovery and throwing items, crystals, coins and gemstones. Maximillian learns how to invent from Cedric, who teaches him after rescuing him from Flotsam and his circus elephant Linda in the Underground Water Channel's fourth floor "Channel Pump Room". Cedric's Ridepod ran out of fuel and Max decided he wanted to try to invent and build the new Energy Pack.
Inventions will always take three specific ideas to create, but some of them can be created using more than one set. Once an invention has been thought of it is never lost and can be built at any time from the 'make' section in the start menu, assuming enough materials are available. Several inventions are however considered missable, as they require specific scoops which can often only be taken at a single specific time in the game.
Inventions
Edit
Note: The + icon in some of the 'Total cost' cells indicates that some of the materials cannot be bought and thus must be acquired through other means.
Ridepod bodies
Edit
Ridepod packs
Edit
Ridepod legs
Edit
Ridepod arms
Edit
Recovery items
Edit
Throwing items
Edit
Miscellaneous
Edit