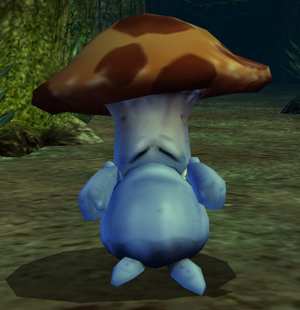 The Fli Fli is a monster that is encountered in Dark Cloud, found in the Wise Owl Forest. It resembles a walking mushroom. The Fli Fli has no variations, making it a unique one-time experience.
For quotes, see Steve's Quotes
Battle Tactics
Edit
The Fli Fli's only real attack is a poisonous vapor cloud that it emits. It can be rather difficult to defeat at close range, since you have the likelihood of getting poisoned, due to the fact that it spews vapor as soon as you get near. It is best to use projectile attacks such as Xiao's slinghshot.
Monster Notes
Edit
Ad blocker interference detected!
Wikia is a free-to-use site that makes money from advertising. We have a modified experience for viewers using ad blockers

Wikia is not accessible if you've made further modifications. Remove the custom ad blocker rule(s) and the page will load as expected.