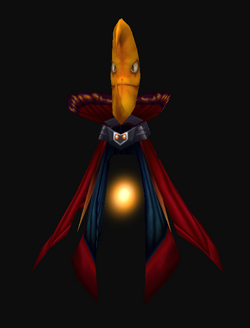 The Crescent Baron is a monster that appears in Dark Cloud and Dark Cloud 2. It is found in the Moon Sea and Starlight Canyon, respectively. It has a crescent-shaped head with two eyes and a mouth engraved onto it. It wears a belt that holds together a large, red and black cape around a single glowing orb in its center. When it performs melee attacks, a pair of white, string-like arms appear from under its cape.
For quotes, see Steve's Quotes or Monster Quotes.
Battle Tactics
Edit
Dark Cloud
Edit
This monster has two attacks: one is whipping with its long arms, and the other is shooting a ball of energy. The Crescent Baron hovers in the air, but will occasionally charge and use his melee attack. To defeat this monster, it's best to stay at a safe distance and use long-range weapons.
Dark Cloud 2
Edit
The Crescent Baron and all of its variations' attacks are the same as in his previous incarnation, except now its attacks can cause stop to the player. Keep a safe distance and use long-range attacks, but if it gets close enough, use a charged melee attack. Max has an easier time against this monster due to his gun and beam weakness. As the Ridepod cannot be paralyzed by the attacks, using it makes this monster a non-threat.
Monster Notes
Edit
Dark Cloud
Edit
Section incomplete

This section is empty or needs to be expanded. You can help the

Dark Cloud wiki

by

writing it

.
Dark Cloud
Crescent Baron
Crescent Baron
Habitat
Moon Sea
Demon Shaft
Holy Zone
Type
Sky
Sky
Hit Points
450
?
ABS
12
?
Defend
No
No
Weakness
None
?
Steal
None
?
Dark Cloud 2
Edit
Variation Gallery
Edit
Dark Cloud
Edit
Image needed

This article or its infobox is missing one or more images. Please help the

Dark Cloud Wiki

by

uploading

one.
Dark Cloud 2
Edit