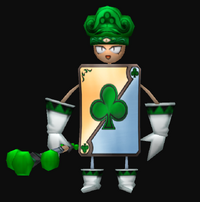 The Club is a Card-type monster in the Dark Cloud series.
Dark CloudEdit
Enemy Data
Edit
Dark Cloud 2Edit
In Dark Cloud 2, the Club and its variations wields a club shaped like its clover symbol. Guarding will reduce damage, but not by much, as the card can go around your defenses. It has no other attacks but a single club-swing.
Ad blocker interference detected!
Wikia is a free-to-use site that makes money from advertising. We have a modified experience for viewers using ad blockers

Wikia is not accessible if you've made further modifications. Remove the custom ad blocker rule(s) and the page will load as expected.